Ultimate Nutrition Prostar 100% Whey Protein
Best Before:
Veg / Non-veg : Veg
EXTRA 5% OFF
ON Prepaid Orders
PREPAID
7 Days Return
100% Authentic
Check Return Policy
Usage Benefits
25g of Protein per Serving
Only 2g Carbohydrates per Serving
Over 6g of Naturally Occurring BCAAs per Serving
Imported By
Shri Balaji Overseas (✓ Brand Authorized):
Khasra no 731/1 div iii phirani road mundka
New Delhi 110041
FSSAI Licence No. - 10015011002705
Manufactured By
Ultimate Nutrition Inc., Farmington CT 06034
Country of Origin: USA
Brand: Ultimate Nutrition
View full details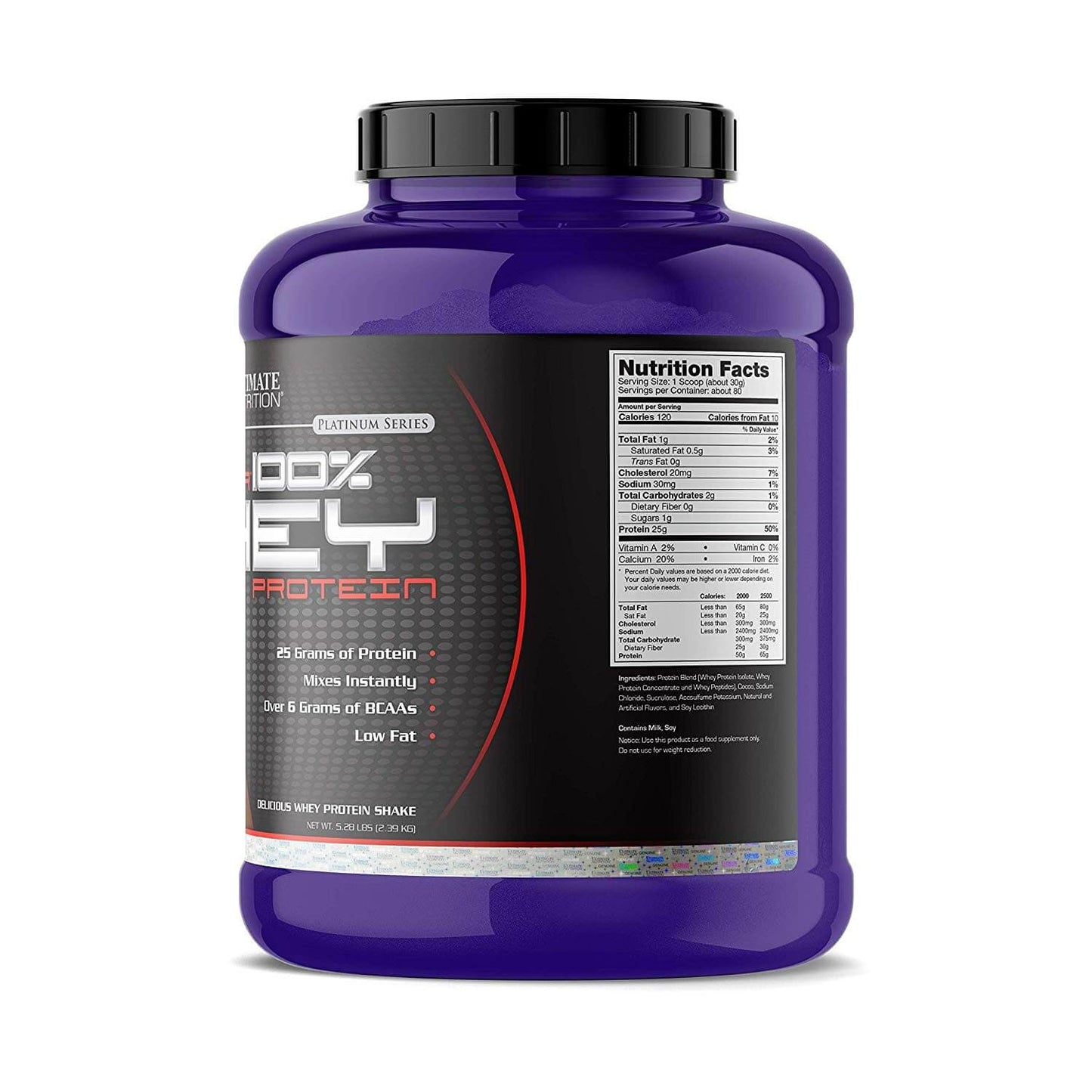 Product Description
How to Use
Nutrition Facts Table
Authentication
Made exclusively to help pro-level body builders and athletes get the amount of stamina and energy that they need in order to perform to their best abilities, Ultimate Nutrition Prostar is a unique blend of several beneficial nutrients. Like all Ultimate Nutrition Whey Protein supplements, you can be sure of the highest quality raw material that guarantees great quality proteins as well. This product is safe, effective and highly recommended for various reasons.
Benefits of Ultimate Nutrition Prostar Whey
You get the assurance of great results and a reliable source of nutrients with Ultimate Nutrition Prostar Whey. This supplement comes with a patented formula that does a lot more than merely deliver your daily required protein intake each day. You have several health benefits thanks to the unique features of Prostar Whey Protein, as mentioned below:
Great protein blend: With every serving of Ultimate Nutrition Prostar 100 Whey you get 25gm of pure whey protein blends. This includes whey protein isolates, concentrates and peptides along with soy lecithin. This gives you a multi-functional protein supplement that not only gives you a great source of nutrition instantly after training but also provides a sustained supply of proteins through the day. Not only does this help in recovery, it also allows you to prevent any muscle loss so that you can work towards building the perfectly toned physique.
Provides Branched Chain Amino Acids: Every serving of Prostar 100 Whey Protein gives you 6 grams of Branched Chain Amino Acids. These amino acids are the most abundantly found ones in the muscle fibers and are absorbed instantly after a training session. Since muscles are starved after strenuous physical activity, these nutrients give the muscles much needed relief from soreness. They aid in faster recovery. As a result, protein synthesis improves to help the body produce more muscle fibers. This helps you get more volume and also get the pump that you need.
Very low in fat: The goal with most athletes and bodybuilders is to build a lean physique. With this Whey Protein Ultimate Nutrition, you are able to accomplish this goal easily. This is because you have just about 1g of sugar and zero fat in each serving. This means that you do not have to worry about consuming unwanted calories that may translate into added fat deposits. By giving you a source of pure proteins, this supplement ensures that you are able to get a ripped and chiseled physique.
Added vitamins and minerals: Vitamin C improves immunity, allowing you to be more consistent with your training. You are also able to build stronger bones and improve the transportation of oxygen to the body. The advantage of this is that you are able to reduce the risk of injury. Better oxygen supply means that you are able to get monstrous pumps and also have the stamina that you need for a grueling workout session.
How to Use
Mix one serving of Prostar Protein with 170-200ml of water. Shake it well to make a thick drink and consume. You can choose a dosage of 1-3 scoops every day depending upon your requirement.
When to Use
This supplement is perfect for use:
After workout: The fast acting proteins help the muscles recover faster and also grow in size faster.
In between meals: The combination of fast and slow acting proteins makes this the perfect snack as it gives a sustained supply of nutrients for as long as you need.
How to Use
Mix 1 scoop of 30gm in 8 ounces of cold water or milk. Consume 1 to 4 servings per day.
| | |
| --- | --- |
| Weight | 5.28 lbs (2.40 kg) |
| Flavour | Vanilla Creme |
| Vegetarian/Non-Vegetarian | Vegetarian |
| Number of Servings | 80 |
| Serving Size | 30gm |
| Protein Per Serving (g) | 25gm |
| Manufactured In | USA |
| Form | Powder |
| Goal/Concern | Muscle building |
We ensure the products authenticity by sourcing directly from authorised importers or manufacturers only and selling the products directly to our customers.
For any authenticity related questions or doubts, you can email us at info@nutrigize.in and we will help you to get your purchase verified.