Testo Xplode | Natural Muscles Builder For Men | 60 Veg Capsules
Regular price
₹ 1,099.00
Sale price
₹ 649.00
Unit price
per
41% Off
Sold out
Regular price
₹ 1,099.00
Sale price
₹ 649.00
Unit price
per
41% Off
Sold out
Testo Xplode is a natural muscle builder designed specifically for men. It is a dietary supplement formulated with a blend of powerful ingredients that are scientifically shown to support healthy test levels, enhance muscle growth, and improve physical performance. With 60 veg capsules per bottle, Testo Xplode is a convenient and easy-to-use supplement that can help men optimize their muscle-building goals.
Benefits:
Muscle Growth: Testo Xplode is specifically formulated to help men build lean muscle mass. It contains ingredients such as Tribulus Terrestris, Fenugreek, which have been shown to support muscle growth and strength. These ingredients work synergistically to promote protein synthesis, which is essential for muscle repair and growth after intense workouts.
Performance Enhancement: Testo Xplode is designed to help improve physical performance, endurance, and stamina. It contains ingredients like Maca Root and Ginseng, which are known to boost energy levels, enhance stamina, and reduce fatigue, allowing men to push harder during workouts and achieve better results.
Natural Formula: Testo Xplode is made with a natural formula that is free from harmful chemicals, fillers, and artificial additives. It is suitable for vegetarians and is free from any animal-derived ingredients, making it a safe and effective option for men who prefer natural and plant-based supplements.
How to Use:
Take 2 capsules of Testo Xplode daily with a glass of water, preferably with a meal. For best results, it is recommended to use Testo Xplode in conjunction with a healthy diet and regular exercise routine. Consult with your healthcare professional before using any new dietary supplement, especially if you have any underlying health conditions or are taking medication.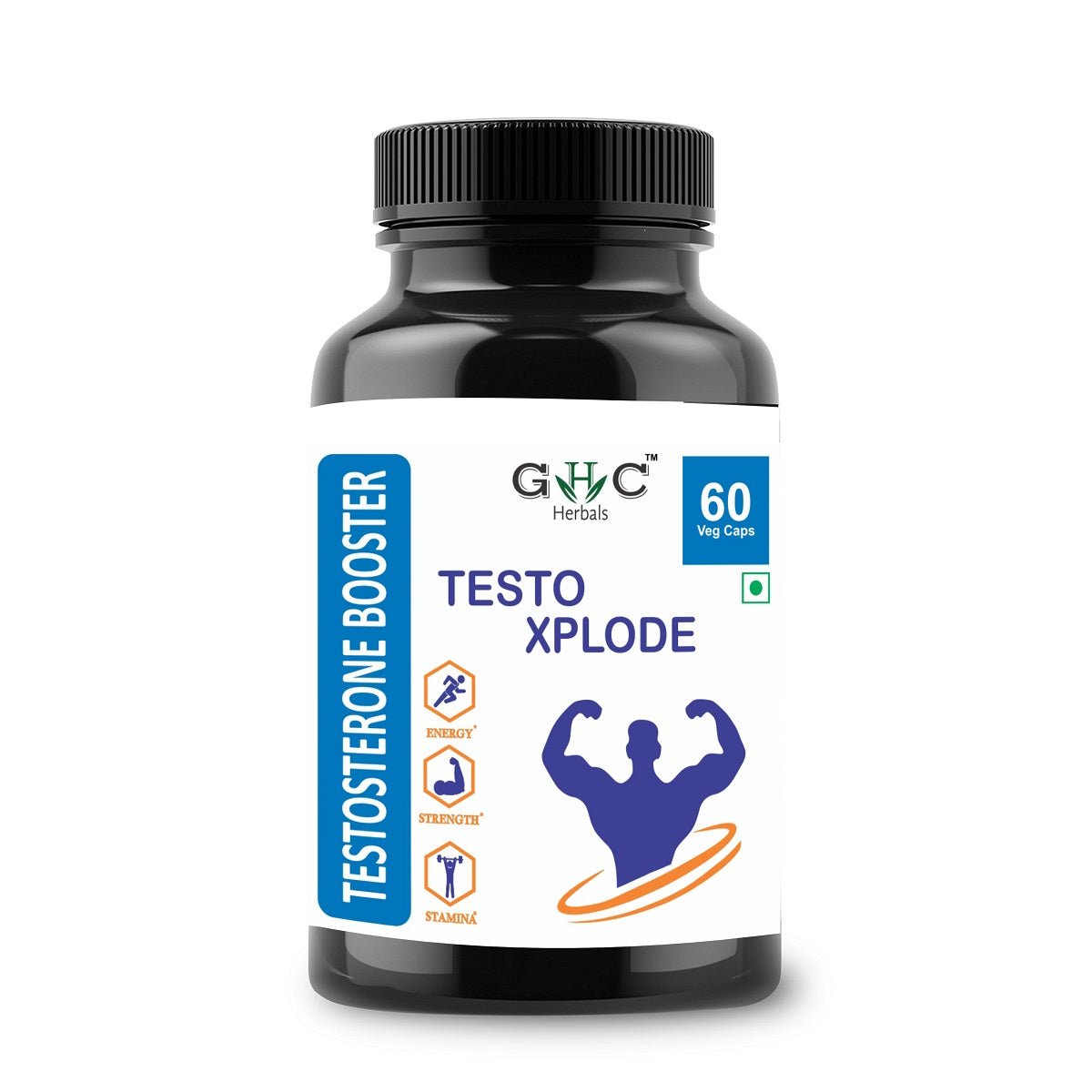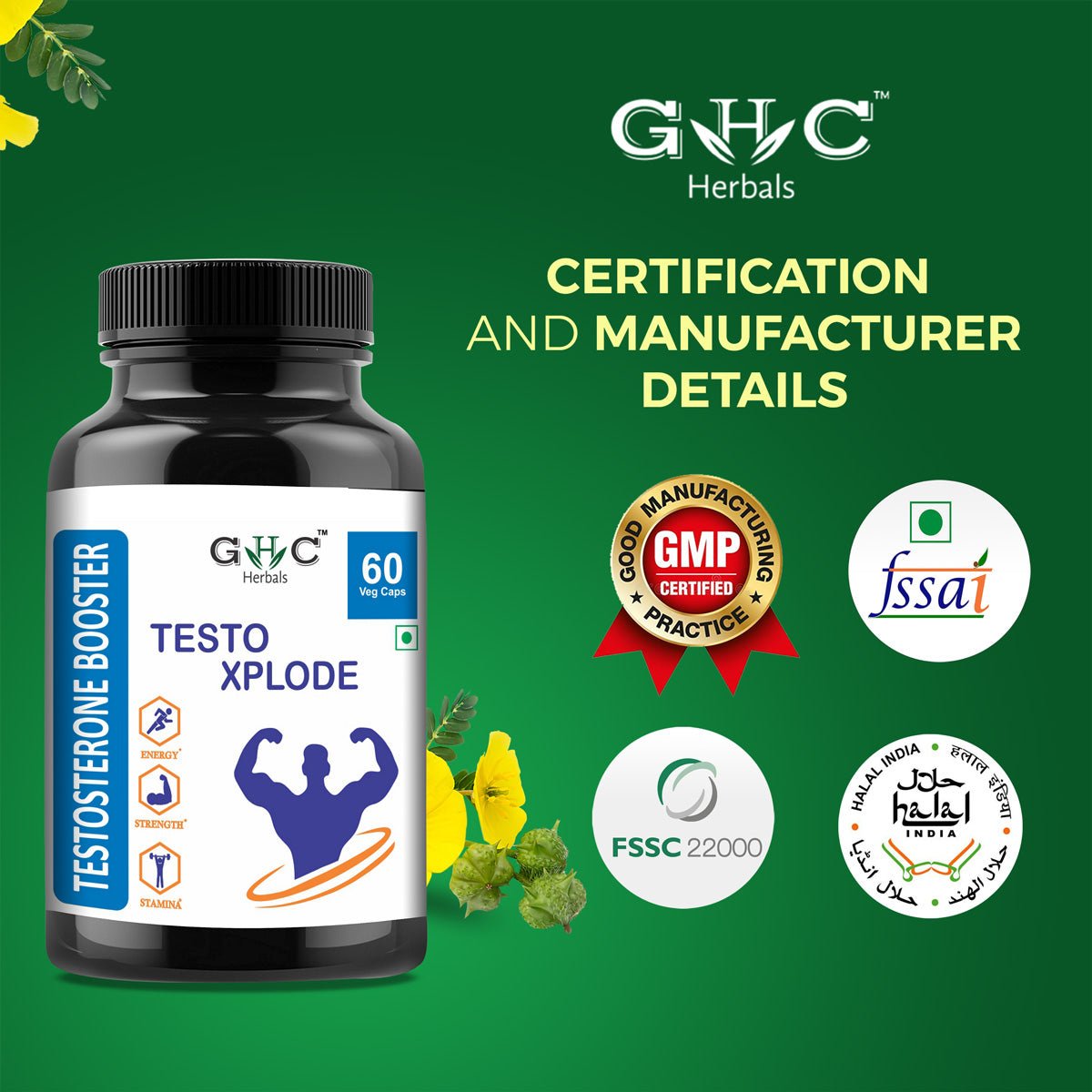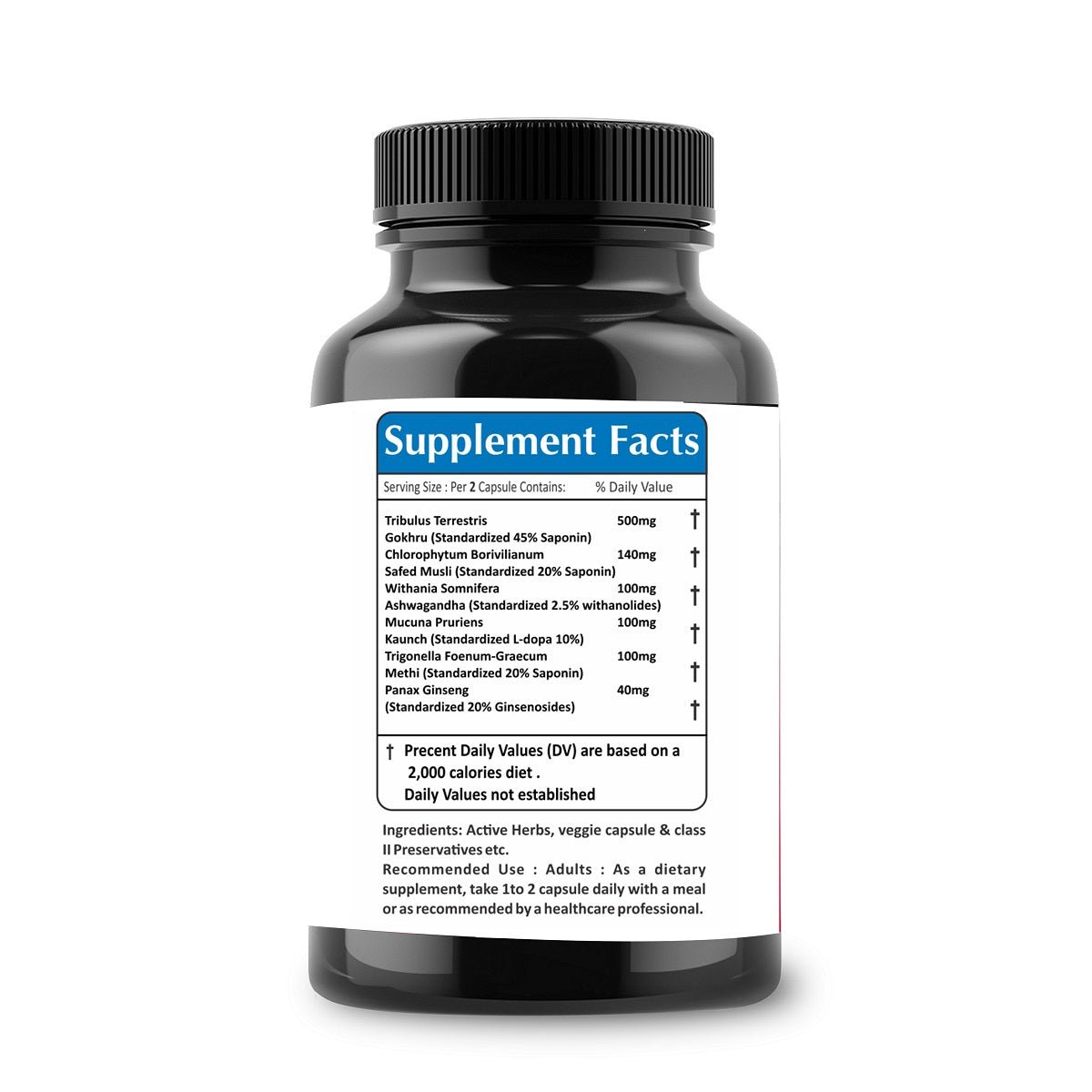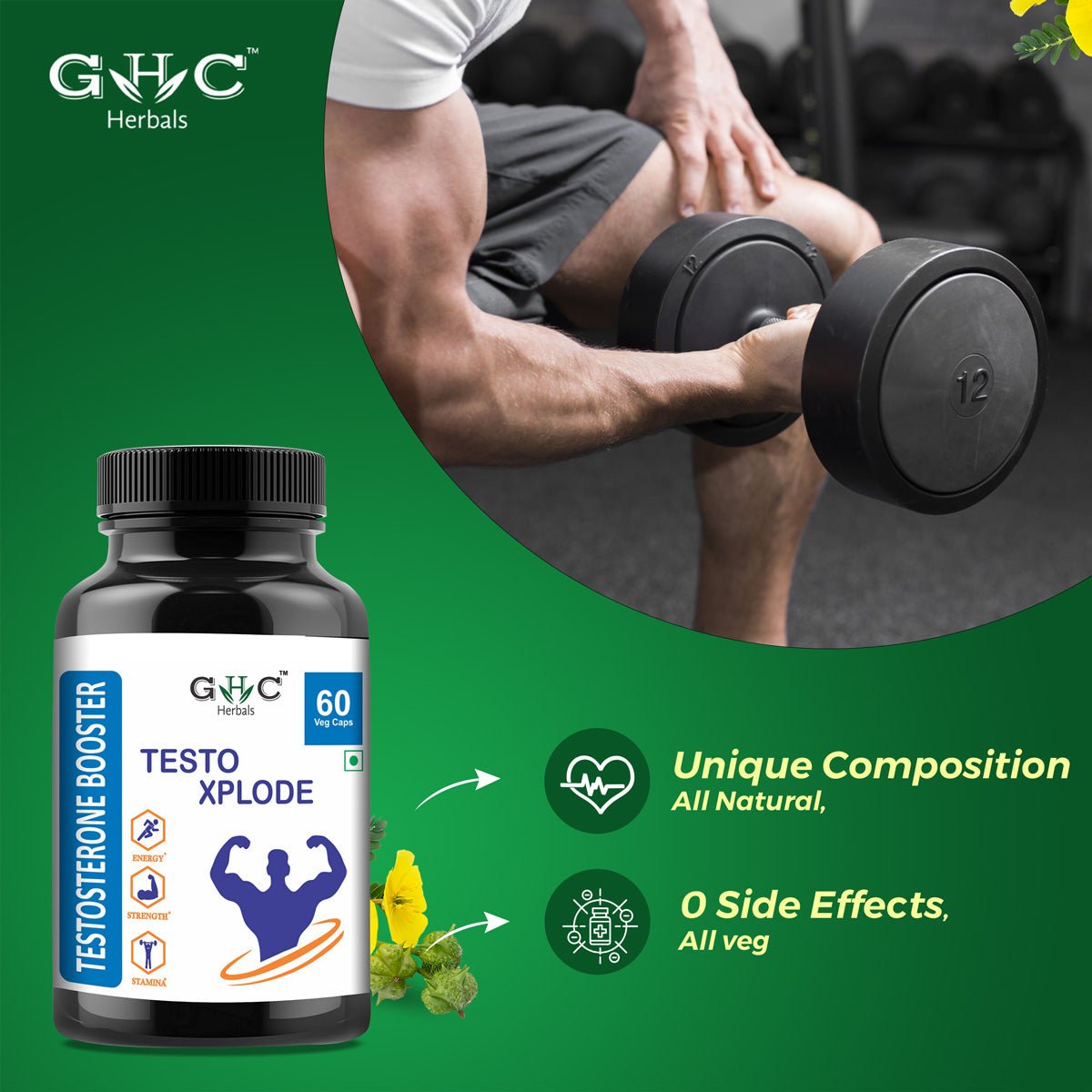 Reviews that Reward Us
Best Product
I couldn't lift heavy weights and I wanted to become a weightlifter. My coach suggested me GHC Herbals and I am happy with the results. I am able to lift heavy weights and it has also increased my focus
Satisfied
Fatigue and low sex drive had put a distance between my wife and I. To help me improve my energy, I started consuming this capsule on my friend's suggestion. Now I no longer have an issue performing!
Liked the product
I started taking testo xplode capsules to increase my endurance at the gym. They built up my stamina and I can work out longer without getting tired too much.
Good one
GHC helped me increase my testosterone level without harming my body with its Testo Xplode capsules! They are herbal and I have also developed muscles in my body!
Frequently Asked Questions
1. Is it Lab tested?
Each sample of our product is tested from a NABL accredited, certified laboratory.
2. Any side-effects of this supplement?
Since our product contains all natural ingredients like Tribulus terrestris, Safed Musli, Ashwagandha, Kaunch Beej and Panax Ginseng which naturally aid in improving your testosterone levels, it is 100% safe to consume these capsules. However, these are not recommended for people below 18 years of age.
3. What role does testosterones play in males?
Testosterone is a sex hormone that plays numerous important roles in the body. In men, it's thought to regulate sex drive (libido), bone mass, fat distribution, muscle mass and strength, and the production of red blood cells and sperm.
4. How does low testosterone affect a man?
Testosterone is a hormone that affects emotional regulation. Depression has been linked to men with low testosterone. This could result from a combination of the irritability, decreased sex drive, and fatigue that can come with low testosterone.
5. Should I take testosterone supplements to build muscle?
One of the main health benefits of taking a testosterone booster is that it stimulates muscle growth. If that's not enough, these boosters are also efficient at burning off excessive fat. Thus testosterone supplements can help build muscle and lose fat, resulting in a ripped physique. Testosterone levels help with physical as well as mental health equally, increases muscle power and immunity.
6. What is the main cause of low testosterone?
Men have much higher levels of testosterone than women. Production increases during puberty and starts to decrease after age 30. A decrease in testosterone level is a natural result of aging.
7. How to Use/Recommended Dosage?
Take 2 capsules per day after meals. Can be consumed with plain water or warm milk. As gym supplement - Can be consumed in morning with a glass of milk.
8. What are the natural diet sources to boost testosterones?
Two nutrients that are especially important to your diet are vitamin D and zinc, both of which are pecursors for making testosterone. Some of the foods highlighting these two nutrients are - Tuna fish, Egg yolks, Fortified cereals, oysters, shellfish, beans.
good one
Referred by a friend, very good product to use to boost the workouts
Satisfied
Very good service from ghc team
good one
Referred by a friend, very good product to use to boost the workouts
Satisfied
Very good service from ghc team
Choosing a selection results in a full page refresh.
Opens in a new window.