One Science Premium EAA, 30 Servings, 360 gm
Regular price
₹ 3,999.00
Sale price
₹ 2,650.00
Unit price
per
34% Off
Sold out
Best Before:
Regular price
₹ 3,999.00
Sale price
₹ 2,650.00
Unit price
per
34% Off
Sold out
EXTRA 5% OFF
ON Prepaid Orders
PREPAID
7 Days Return
100% Authentic
Check Return Policy
View full details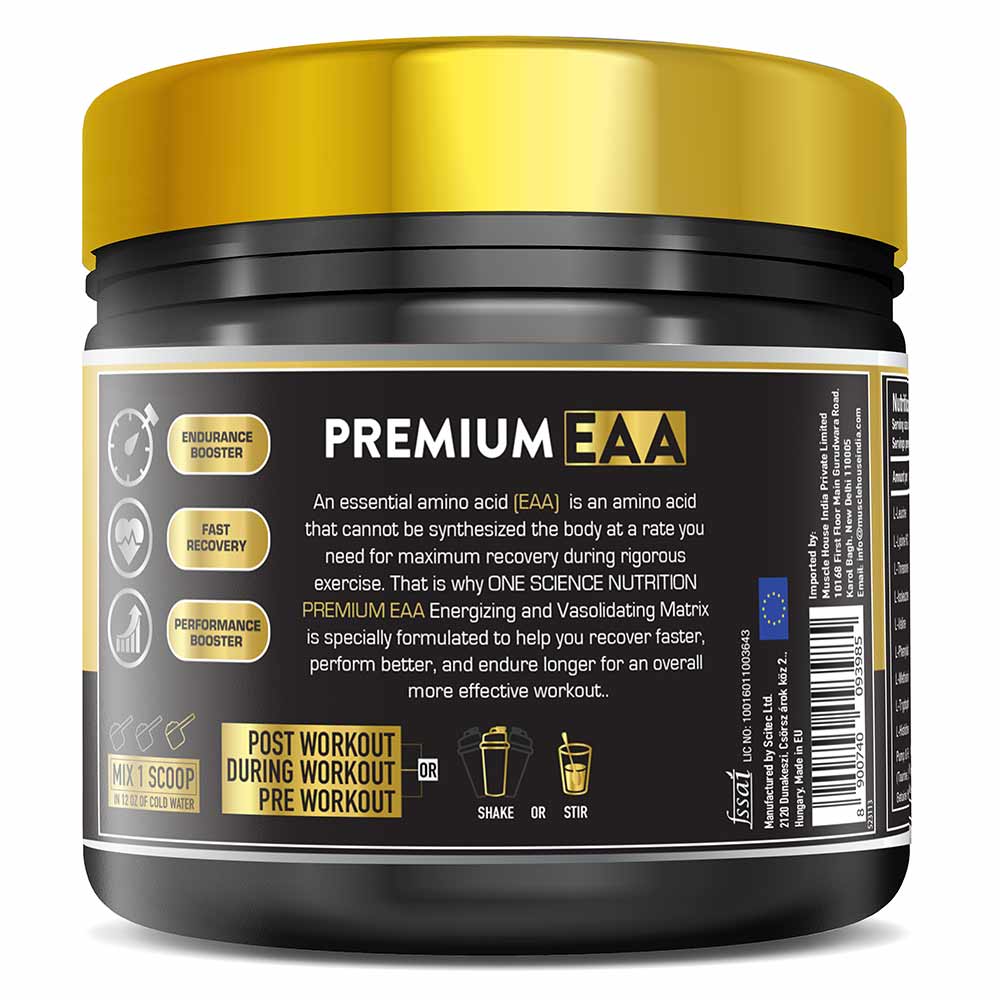 Product Description
How to Use
Nutrition Facts Table
Authentication
One Science Premium EAA is a premium-quality Essential Amino Acid (EAA) supplement designed to fuel your workouts and support muscle growth and recovery. Packed with a precise blend of all nine essential amino acids, this advanced formula delivers the building blocks your body needs to optimize protein synthesis, enhance performance, and accelerate muscle repair and growth.
Benefits:
Muscle Building and Repair: One Science Premium EAA contains a comprehensive blend of all nine essential amino acids, including the crucial branched-chain amino acids (BCAAs), which are known for their role in muscle protein synthesis. This helps stimulate muscle growth and repair, supporting the development of lean muscle mass and faster recovery from intense workouts.
Performance Enhancement: EAA supplementation can help improve exercise performance by reducing muscle fatigue and improving endurance. One Science Premium EAA provides the fuel your muscles need to perform at their best during high-intensity workouts, helping you push through your limits and achieve peak performance.
Enhanced Recovery: Amino acids are essential for muscle recovery, and One Science Premium EAA delivers the optimal ratio of EAAs to support rapid recovery after workouts. It helps reduce muscle soreness and inflammation, allowing you to bounce back faster and train harder for your next session.
Convenient and Delicious: One Science Premium EAA comes in a delicious flavor and is easy to mix with water or your favorite beverage. It is a convenient way to supplement your diet with essential amino acids, providing a tasty and refreshing way to fuel your workouts and support your muscle-building goals.
How to Use:
Mix one scoop of One Science Premium EAA with 12-16 ounces of water or your preferred beverage. Consume during or after your workout for optimal results. On non-workout days, you can also take it as a refreshing intra-day drink to support muscle recovery. Adjust serving size based on your individual needs and goals.
| | |
| --- | --- |
| Weight | 360gm |
| Flavour | Pomegranate Berries |
| Vegetarian/Non-Vegetarian | Vegetarian |
| Number of Servings | 30 |
| Serving Size | 12 gm |
| Manufactured In | Hungary |
| Form | Powder |
| Goal/Concern | Enhances Workout Performance,Muscle Recovery |