NOW ZMA Sports Recovery 90 Capsules
Regular price
₹ 2,900.00
Sale price
₹ 1,790.00
Unit price
per
38% Off
Sold out
Best Before:
Regular price
₹ 2,900.00
Sale price
₹ 1,790.00
Unit price
per
38% Off
Sold out
EXTRA 5% OFF
ON Prepaid Orders
PREPAID
7 Days Return
100% Authentic
Check Return Policy
View full details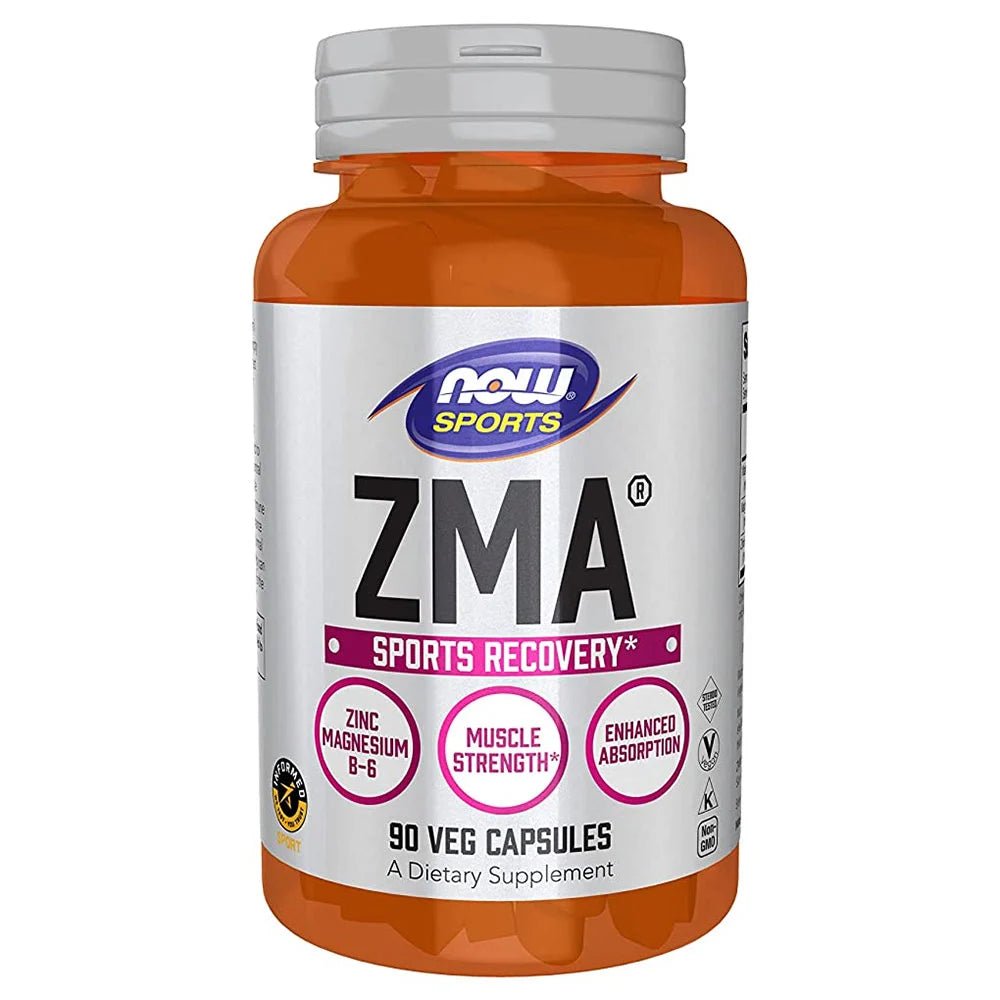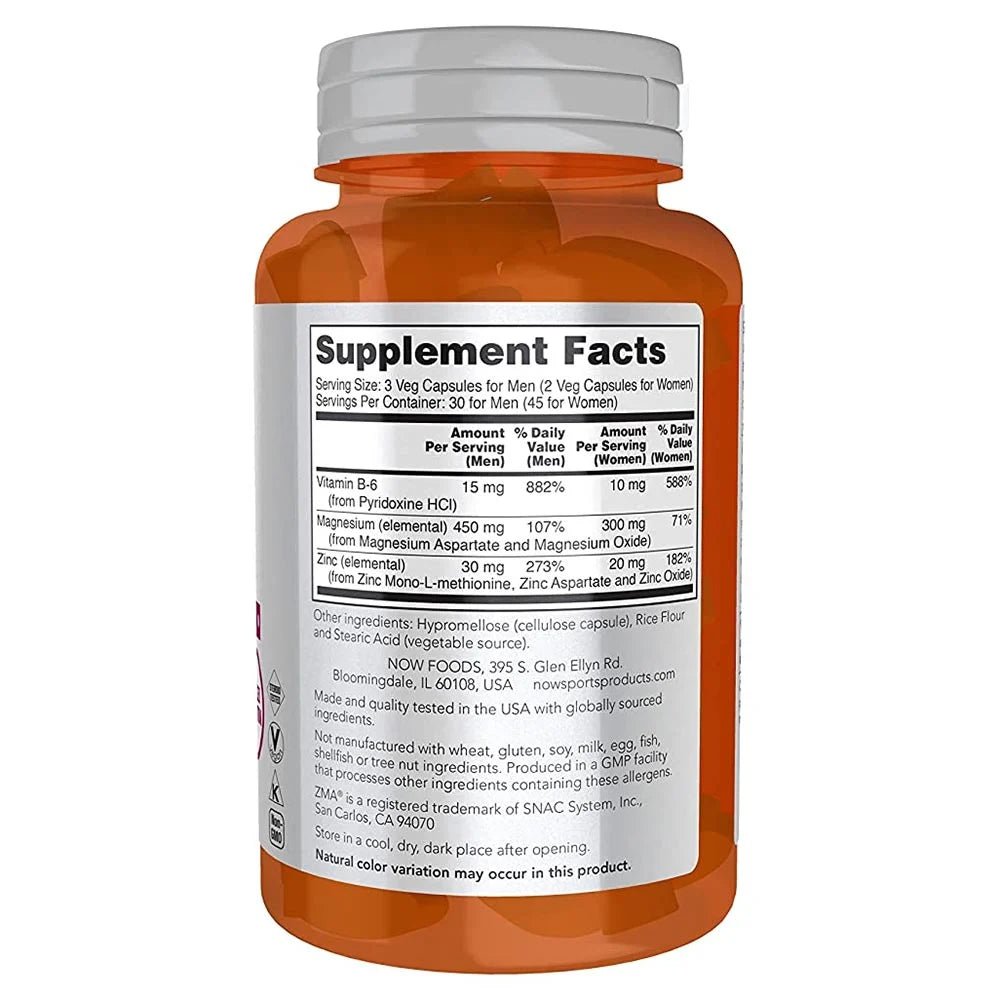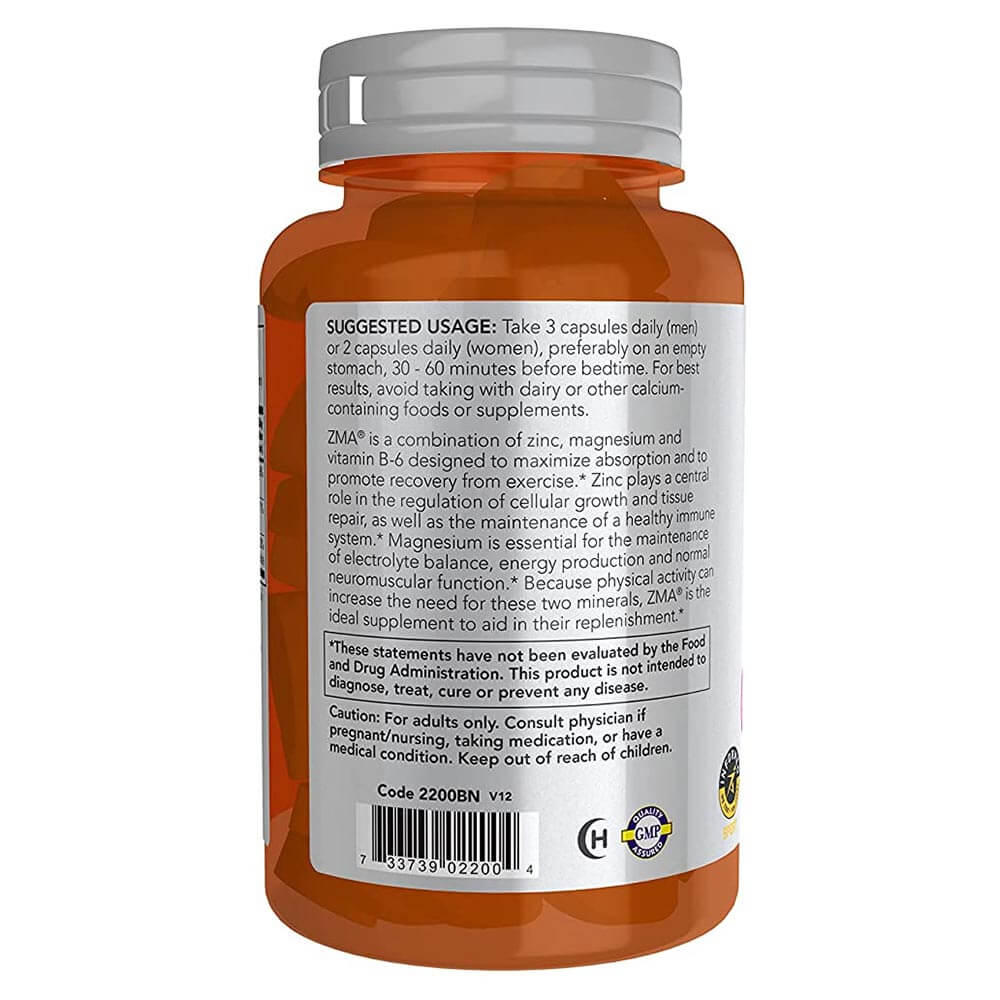 Product Description
How to Use
Nutrition Facts Table
Authentication
Superior Nutrient Absorption and Faster Recovery with NOW ZMA
These

ZMA Tablets

come with 30mg of Zinc, 450mg of Magnesium and 150mg of Vitamin B-6 to give you optimum nutrition.

They are designed to help you recover faster to reduce muscle soreness.

ZMA 

helps improve cellular growth to give you more volume and a better pump.

Magnesium aids better absorption of calcium to help build stronger bones and teeth.

NOW ZMA Tablets

improve the absorption of nutrients that you consume throughout the day for better performance and enhanced results.
Benefits of Now ZMA
For individuals who lead a lifestyle that is physically demanding, adding ZMA capsules to the diet is extremely beneficial. It helps you get the most vital nutrients for improved results and several benefits as mentioned below:
Helps achieve daily nutrient requirements:

Zinc, Magnesium and Vitamin B6 are the most important nutrients for individuals who are physically active. If you are unable to get the required amount of these nutrients through your diet, 150mg of Vitamin B-6, 450mg of Magnesium and 30mg of Zinc help you reach your daily required intake.

Promotes faster muscle recovery:

The most important thing in order to recover faster is good sleep. With this

ZMA supplement,

the nutrients provided help you sleep better. They also improve the rate of muscle recovery after a strenuous workout. As a result, your performance improves and you are able to push your boundaries when it comes to your training.

Improves cell growth:

Besides better muscle synthesis, these supplements help improve growth at the cellular level. This improves muscle volume considerably and helps you achieve a better muscle pump. Improved cell growth with these

ZMA tablets

also helps your muscles repair any wear and tear that is caused as a result of heavy training.

Aids in calcium absorption: Magnesium in this supplement is vital for better calcium absorption. Calcium is the most vital nutrient when it comes to improved bone and teeth health. By better assimilation of this nutrient, you are able to build stronger bones and muscles.
Better assimilation of nutrients: Through the day, you consume various nutrients through your diet. ZMA helps assimilate these nutrients much better. As a result, you are able to get faster results with your training and nutritional plan. Vitamin B-6 particularly aids in faster metabolism of carbohydrates, fats, and proteins.
Highest quality ingredients:

This is the

best ZMA supplement

because of the high standards of quality and safety that are followed. All capsules are manufactured in a GMP certified facility which ensures the best in terms of raw materials used to make these supplements.  
How to Use
For men, the recommended dosage each day is 3 capsules. For women, the recommended dosage is 2 capsules. It is best to take these capsules on an empty stomach or about 40 minutes before bedtime. Make sure that you avoid using these tablets with calcium-rich foods to prevent any toxicity.

| | |
| --- | --- |
| Weight | 90 Capsules |
| Flavour | Unflavoured |
| Vegetarian/Non-Vegetarian | Non-Vegetarian |
| Number of Servings | 30 for Men / 45 for Women |
| Serving Size | 3 Capsules for Men / 2 Capsules for Women |
| Manufactured In | USA |
| Form | Capsules |
| Goal/Concern | Well Being |