Gibbon Nutrition Glutamine Powder, 50 servings
Regular price
₹ 1,600.00
Sale price
₹ 1,120.00
Unit price
per
30% Off
Sold out
Best Before:
Regular price
₹ 1,600.00
Sale price
₹ 1,120.00
Unit price
per
30% Off
Sold out
EXTRA 5% OFF
ON Prepaid Orders
PREPAID
7 Days Return
100% Authentic
Check Return Policy
View full details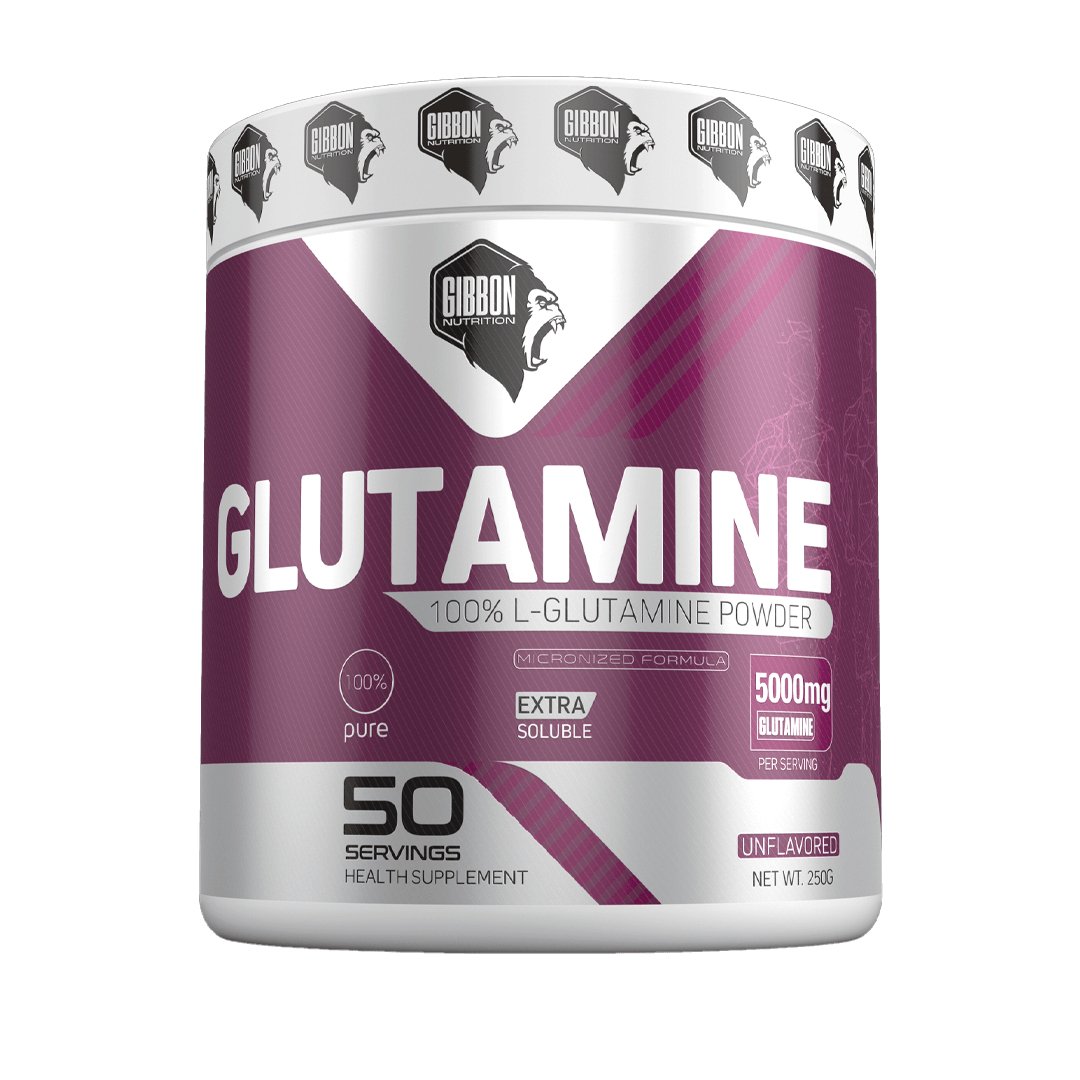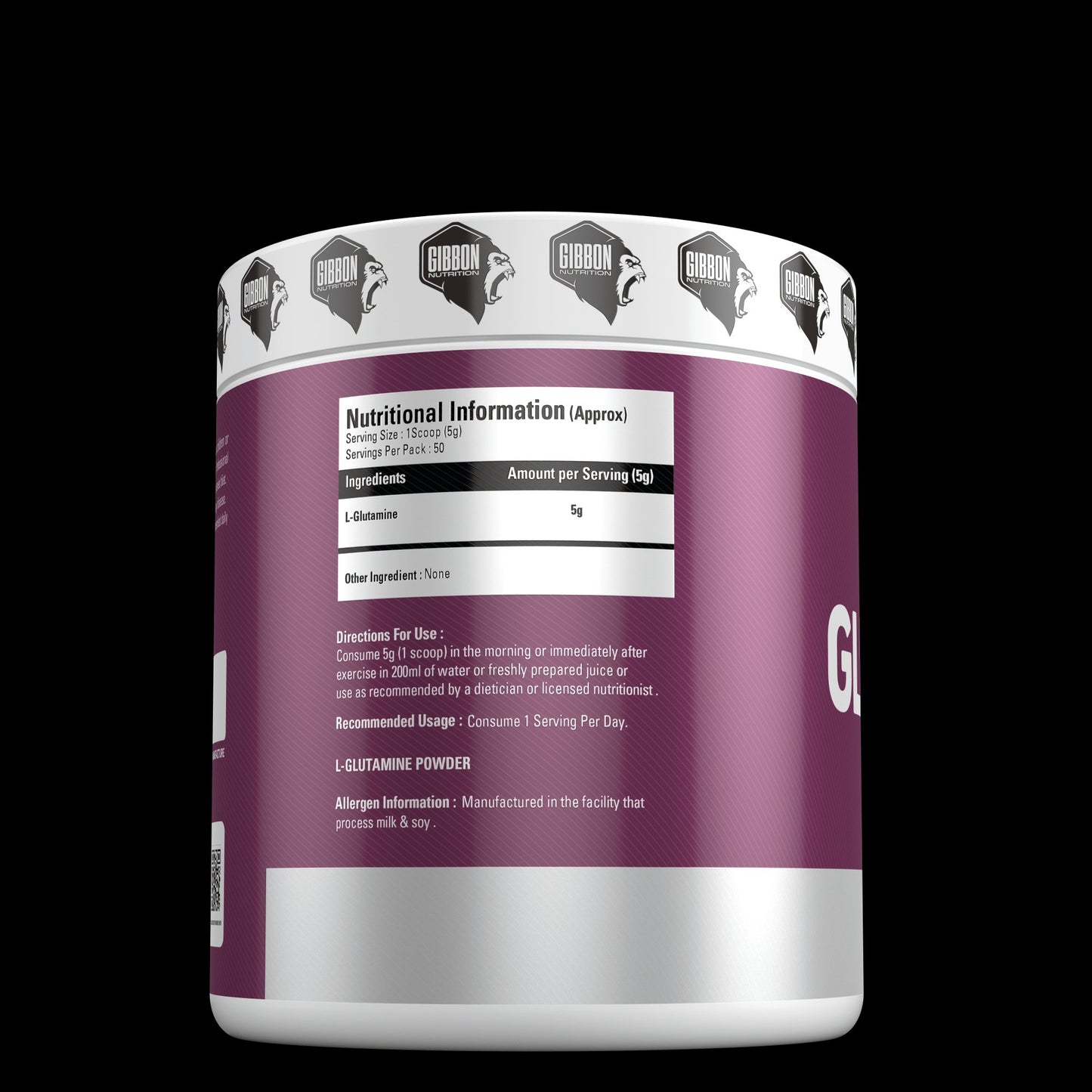 Product Description
How to Use
Nutrition Facts Table
Authentication
Gibbon Nutrition Glutamine Powder is a premium-quality supplement that supports muscle recovery, immune health, and overall wellness. Packed with 50 servings of pure and potent glutamine powder, this supplement is designed to enhance your athletic performance and promote optimal muscle function. Whether you're a professional athlete or a fitness enthusiast, Gibbon Nutrition Glutamine Powder is the perfect addition to your supplementation routine.
Benefits:
Muscle Recovery: Glutamine is a conditionally essential amino acid that plays a crucial role in muscle recovery. It helps replenish glycogen stores, reduce muscle breakdown, and promote muscle repair after intense workouts, helping you bounce back faster and perform at your best in your next training session.
Immune Health: Glutamine is known for its immune-boosting properties. It helps support the function of immune cells, such as lymphocytes and macrophages, which are responsible for defending the body against infections and diseases. By supporting a healthy immune system, Gibbon Nutrition Glutamine Powder helps keep you in top shape and able to perform your best in your workouts.
Gut Health: Glutamine is an important fuel source for the cells lining the digestive tract. It helps maintain the integrity of the gut lining and supports the health of the intestinal cells, which can be compromised during intense training or stressful situations. By promoting gut health, Gibbon Nutrition Glutamine Powder helps optimize nutrient absorption, digestion, and overall gut function.
Anti-Catabolic Effects: Glutamine has been shown to have anti-catabolic effects, which means it helps prevent muscle breakdown. During periods of intense training or calorie restriction, the body may break down muscle tissue for energy. By supplementing with Gibbon Nutrition Glutamine Powder, you can help protect your hard-earned muscle mass and support your muscle-building goals.
Versatile Use: Gibbon Nutrition Glutamine Powder is a versatile supplement that can be easily incorporated into your daily routine. It can be mixed with water, juice, or your favorite beverage, making it convenient to consume pre or post-workout, before bedtime, or at any time of the day to support muscle recovery and immune health.
How to Use:
Mix 1 scoop of Gibbon Nutrition Glutamine Powder with 8-10 ounces of water or your preferred beverage. Consume 1-2 servings daily, preferably before or after your workouts, or as recommended by your healthcare professional. Adjust the serving size based on your individual needs and training intensity. Consult with your healthcare professional before using any new dietary supplement, especially if you have any underlying health conditions or are taking medication.
| | |
| --- | --- |
| Weight | 250gm |
| Flavour | Unflavoured |
| Vegetarian/Non-Vegetarian | Vegetarian |
| Number of Servings | 50 |
| Serving Size | 5 gm |
| Manufactured In | India |
| Form | Powder |
| Goal/Concern | Muscle Recovery |