Dream Tan Instant Skin Color 56.7 gm
Regular price
Sale price
₹ 1,790.00
Unit price
per
Sold out
Best Before:
Regular price
Sale price
₹ 1,790.00
Unit price
per
Sold out
EXTRA 5% OFF
ON Prepaid Orders
PREPAID
7 Days Return
100% Authentic
Check Return Policy
Content Highlights
It is a Skin color solution based on emollient
View full details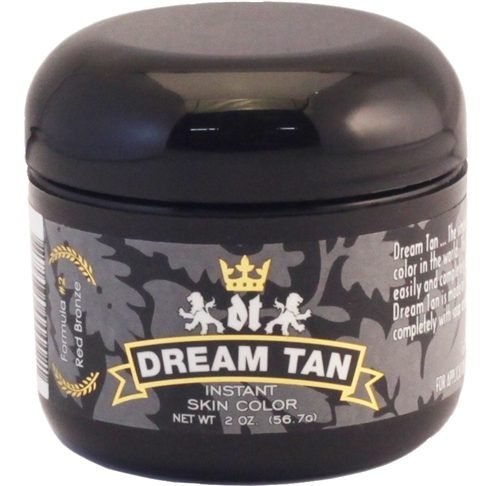 Product Description
How to Use
Nutrition Facts Table
Authentication
We all love bodybuilding. When it comes to stage show, getting that edge by showcasing each and every definition of your muscles can be the difference between victory and defeat.
For this, athletes and bodybuilders, for several decades have been using various dyes and darkening/tanning creams for years. There never was a single solution and often the athlete would not actually know what color his body will finally look. Because one color of tan may not be suitable for all skin tones.
Dream Tan is the solution to all these problems. A bodybuilder can choose a color of his choice and then just rub it over his body using a brush or a roller and voila, you have a perfectly tanned skin in just a single application.
Dream Tan Instant Skin Color Perhaps The Most Sought After Bodybuilding Tan In The World.Currently In Over 30 Countries.This Lustrous Moisture-Rich Formula Spreads Easily And Coats Completely In Just One Application.Dream Tan Is Made Of The Finest Emollient-Based Ingredients And Washes Off Completely With Soap And Water.
How to Use
It is easy to apply dream tan. You can use your hands to do so, just like you apply a moisturiser or a body lotion. There are more instructions under the lid on how to apply it.
When should I apply dream tan? Is there anything else I should mix with it? You should apply Dream tan, 30 minutes prior to your apprearance. It will take around 20 minutes to apply Dream Tan to your body. No additional oil etc are required because Dream tan contains oil and moisturizers, however, if you feel the need, to can apply olive oil on Dream Tan to give it that extra shine and look. Can I use Dream Tan on my face? Yes, dream tan can be used on your face because it contains FDA Approved colors that are safe around your eyes. How many bottles of Dream tan should I buy for one application? Usually 1 bottle of dream tan is sufficient for a 90 Kg man. You can get 2 coatings out of the single bottle. Will Dream Tan have any side effects on my skin? Dream Tan comes with moisturizers, so you will get a better quality and smoother skin.
We ensure the products authenticity by sourcing directly from authorised importers or manufacturers only and selling the products directly to our customers.
For any authenticity related questions or doubts, you can email us at info@nutrigize.in and we will help you to get your purchase verified.